By Trey Burke, as told to Alex Busch
My name is Trey Burke and this is my NBA journey…
I picked up a basketball at around four-years old. It was a love of mine, a passion that I always had. I always kind of knew what I wanted to do growing up.
I always had a dream to play in the NBA. I loved watching Allen Iverson. When you see a guy 6-foot dominating the way he did, you get hope.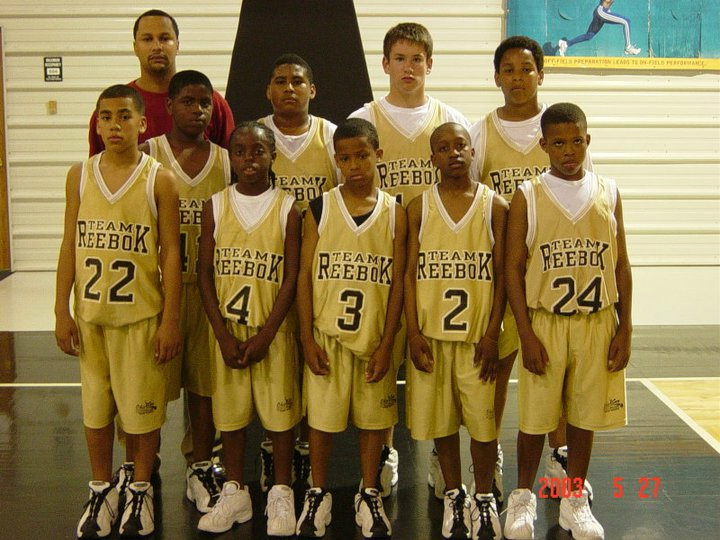 I grew up in Columbus, Ohio, and played AAU ball with Jared Sullinger. You can't play varsity in middle school until you're in the 7th grade there, so I couldn't play that first year but I was always practicing with the team. Coaches kind of knew who was going to be the point guard the next year.
That very next season we won the city championship. That was always a big thing because I felt like there was always a lot of talent in the area where I come from.
The next year, my Mom got a job in Atlanta and I followed. That was a big transition for me, because it was the first time leaving home, and I had to adapt to a new environment. But I ended up getting hurt the first game of the season, and we moved back to Columbus the next year.
When I came back for my 9th grade year, I was out of all the rankings back in Ohio. I had to rebuild my brand and my image, and re-create myself back in my hometown. I was dubbed the ninth or tenth best point guard in my state.
I didn't like that at all.
So I had to work hard. I met a guy named Anthony Rhodman, who helped a friend of mine completely change and improve his game in just one summer. Previously, my dad was the one that actually grounded me with the hard work and the morals of working hard, but Anthony was the one who helped me put the whole picture together, giving me reason behind why I wanted to play basketball and why I wanted to go to the NBA.
The way he talked was totally different – his approach to the game was totally different. We were waking up at 5 a.m. before I went to school. We'd work out. Then we'd hit the weight room. Then I'd get ready and he'd hurry up and drive me to school, and he would go to work.
It was tough at first, I was falling asleep late in the school day. Teachers were asking me what was going on because I had a lack of energy when we started. But then it became a habit that I loved and wanted to continue.
Long story short, I won the state championship my sophomore year under Jared's dad, Sach. Jared was a junior at the time and he was the number one player in the country. He was in Slam Magazine, a McDonald's All-American and he won Mr. Basketball that year.
My junior year, we beat Oak Hill Academy and we beat Findlay Prep on ESPN. Jared is getting all this hype. Findlay had Tristan Thompson and Cory Joseph just to name a few. Oak Hill had some great players as well. We end up becoming No. 1 in the country for about two months. It was the first time that ever happened for a Columbus school. I take a lot of pride in that. I take a lot of pride in Northland High School.
After that we got into the state tournament and lost by 30 points, a huge upset. Jared went out on that game, he was a senior, so he graduated and went to Ohio State.
Now my senior year, I came in and we went on this crazy run – losing only one game before getting to the state championship. I won Mr. Basketball, which was a long-time goal of mine, but we lost in the championship. So I went out on that game.
For my next step, it really came down to Cincinnati and Michigan for what school I was going to go to, and I ended up going to Michigan. There was this point guard there, Darius Morris. He had a lot of hype and he ended up going pro. So I felt like I had the opportunity to come right in and make an impact as a freshman.
I think I averaged like 14 points and four assists my first season. I was named co-freshman of the year with Cody Zeller, who's now in the league as well. But we were upset in the first game of the NCAA Tournament by Ohio University, so then I had a decision to make.
I was obviously on some draft boards, and me being 18-years old and seeing my name on draft boards, I basically had the opportunity to make a decision that would change not only my life, but my family's life as well. It was tough. I ended up getting some great advice from my coach, John Beilein, great advice from my father and great advice from my support system. I made the right decision to come back to school for my sophomore year. I knew that if I came back to school I wanted to play for a National Championship, a Big 10 Championship and I wanted to win some personal accolades, because those were some of my goals.
We had a fantastic freshman class coming in: Mitch McGary, Nik Stauskas, Glenn Robinson III, and more. Tim Hardaway Jr. and I were still there as the leaders. We started really hot but then we had a period throughout the season when we got really cold and we kind of fell off.
Going into the tournament in particular, we lost to a Penn State team that hadn't won a conference game all year. They were fired up, it was senior night, and they beat us. It was one of the worst losses I've ever experienced. That was the last game going into the Big 10 Tournament.
We then played Penn State again in the tournament, and beat them, but then lost to Wisconsin the very next game. That was the last game going into March Madness.
Now, we have commentators and analysts saying that this team isn't ready, that we were a team that was in talks to get to the Final Four, but that we didn't look ready. That's not a way to enter the tournament.
Everybody was down, everybody. Me being a leader of that team, I just tried to give them hope.
Just as we planned it, we ended up making that run. Everyone remembers the Kansas game in the Sweet 16. Down the whole game, two minutes left and we're down 10. We have guys diving all over the floor. It comes down to that last shot, and I hit a big-time 3. We go to overtime, and it was all she wrote.
We got to the championship against Louisville, but we just ran out of gas. I got in foul trouble in the first half and I regret that to this day. It was a great year for us. We exceeded expectations, and I thought I had to declare for the draft and go pro.
Now I can say it. I wasn't ready.
But in today's culture, if you have a year like I had my sophomore year, you have to go. You don't want to risk injury; I didn't really have anything else to prove in college. I definitely could have developed more, but my stock could have dropped because I was at the peak of college basketball at the time.
I went in the top 10 to the Jazz, and once I get to Utah, everything was different.
I had to adjust. I had never really been that far away from home. I loved the mountains, the views are incredible out there. Utah has some great people.
My rookie year, Ty Corbin was the coach, and I think that was the coach that really believed in me and really thought that I could be a star in this league. I had some big games, but I also had some "rookie games" as I would say. It was one of those years where I needed to get better.
My second year, I did come back better, but the Jazz took Dante Exum in the draft. It kind of messed with me confidence-wise. I felt like that was kind of a knock in the face. I thought they drafted me to develop me into a franchise player, which I believe I could have been, but then they draft Exum the next year.
So me being only 20-years old, I could have handled that better. I just felt off after that. My third year comes, and I'm in and out of the rotation. Things start changing because I find myself outside of the rotation – the first time that ever happened to me in my basketball career. It kind of crushed me. It messed with me mentally more than anything, because I wasn't used to that. I wasn't prepared to not play at all and still come out and try and perform in games when I was out there. It made me stronger, though. Much stronger.
Sometimes things just don't work out and Utah just didn't work out.
The next year I ended up going to Washington. I knew what kind of stint that was. John Wall there being their franchise guy, one of my close friends to this day. I knew I was going to come in and play backup minutes, and it probably wasn't going to be a long-term stay. We had a great year, I love those guys to death, and I still keep in contact with a lot of them.
Then summer time comes this past summer and I had another decision to make. OKC was on the table, Houston was on the table, New Orleans wanted me to come work out.
The situation in OKC kind of reminded me of what it was like in Washington, where I would go and play behind Westbrook. The GM here with the Knicks, Scott Perry — who's a Michigan guy as well — we talked and he said, 'hey man, you have the opportunity to come down to Westchester and really run the team. We're not expecting you to be down there super long, but that's all on you.'
I went that route, and everyone then says, 'why did you come to the G League?' I think it was the first time where I was really in charge of my career. I was willing to go down and play my way into a position that I was looking to get into. I believe with the young talent here and the fans that just love basketball — I saw it as a place where I could have a lot of fun playing.
There was a point in time where I just was not having fun with basketball. I was waking up and looking at it as a job. I kind of slowed down everything and looked myself in the mirror and asked myself who I wanted to be. I knew New York City would be a great place to continue my career. I was able to focus on my life outside of basketball as well. I got married, and comfortable here.
I wanted to start from scratch and I'm not ashamed of that. I think the sky is the limit from here. I'm getting better every day and my habits are great. They weren't great when I came into the league and I think my wife and my support system has a lot to do with that.
I deserve to be in the NBA because I respect the game and I'm an ultimate competitor. I'm going to play at 110 percent every night. I think that everyone that comes to our games can see that, the love that I have for the game. At the same time, I believe that I have a great competitive nature – anyone wants to play with that.
I'm 25-years old and have a lot of basketball left in me. I still believe that I am one of the best scorers in the world, and that has to be my mentality. Everybody is entitled to their own opinion, but I believe that given the opportunity I could help a team win at the NBA level. I knew it wasn't going to just be given to me, but I know that where I'm at in my career.
I'm ready to go and get it. I'm all in.
After being drafted 10th overall by the Utah Jazz, Burke played three seasons in Utah before playing for the Wizards last season. Burke has averaged 10.6 points and 3.6 assists per game in his NBA career in 267 games. He is now playing as a prospect player for the Westchester Knicks, and was named the G League Player of the Week on Dec. 11.